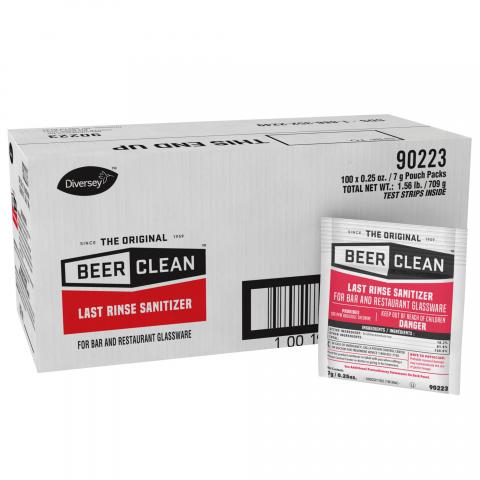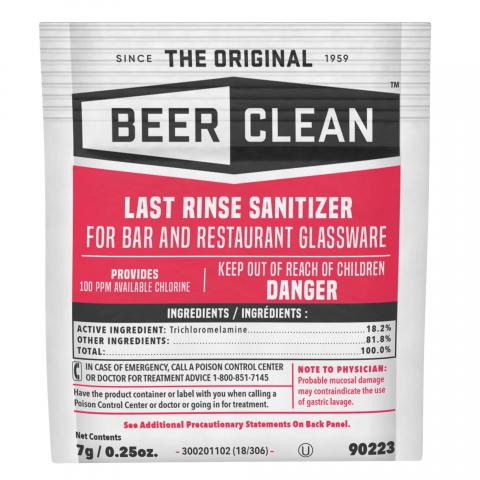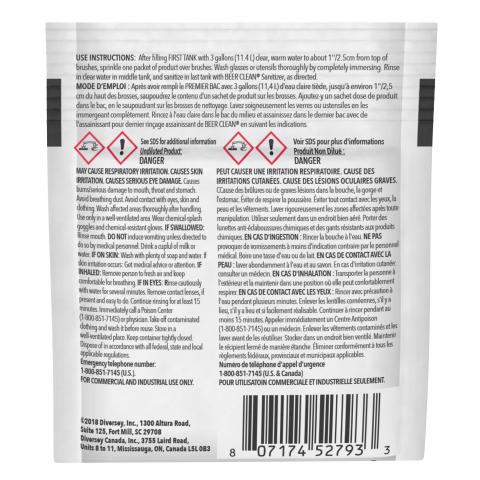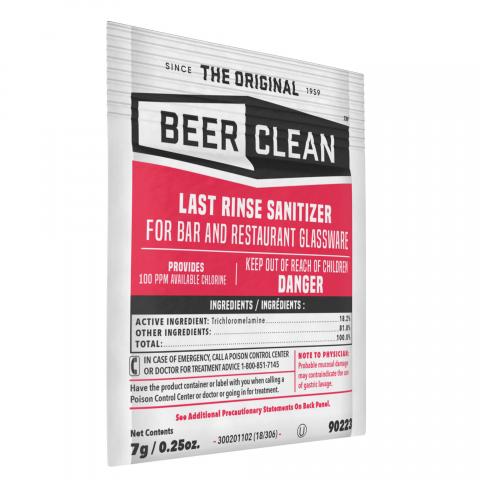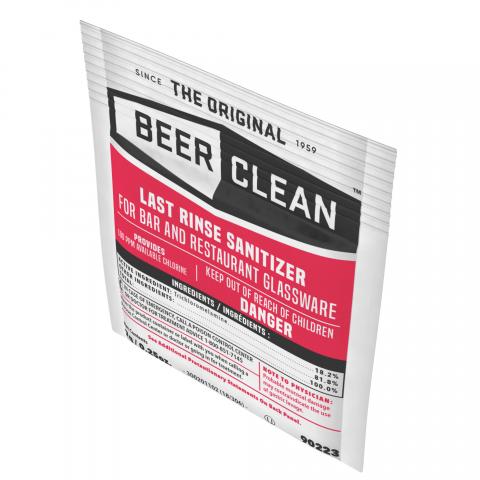 To ensure that the beer you serve tastes and looks as the Master Brewer intended, choose Beer Clean® from Diversey. Properly cleaned and sanitized glasses are crucial for the appearance, taste, and profitability of beer in bars, restaurants, craft breweries, and tasting rooms.
The key to serving the best-looking, best-tasting, and most profitable beer is a perfectly Beer Clean glass. Trust Beer Clean Final Rinse Sanitizer, the original since 1952, to sanitize beer glasses, stemware, and other bar glassware quickly and easily.
Beer Clean Last Rinse Sanitizer contains Trichloromelamine (TCM), a highly effective powdered compound that sanitizes bar glassware fast and effectively. This specially formulated sanitizer is designed for use in the third sink of three-compartment sinks for the sanitation of all types of glassware. It leaves no odor, aftertaste, or residue, and each package is color-coded red for easy identification.
Beer Clean Last Rinse Sanitizer is available in ultra-convenient pre-measured .25 oz. packets or 2 lb. bulk containers with an included measuring scoop to minimize over-use and test strips to ensure employees use the proper amount to ensure the proper 100 ppm active sanitizer level is maintained.
For electric brush applications, pair with Beer Clean Low Foam Detergent, or for manual brush applications, use Beer Clean Detergent.
You can also add the optional Beer Clean Mineral Solvent when dealing with extremely hard water to deliver a perfectly Beer Clean glass every time.
Case bar code
10807174555216
Features
Beer Clean is designed to intricately clean bar glasses so that the flavors and aromas of craft beers can be fully enjoyed without lingering residues from other generic cleaners or sanitizing chemicals
Unique time-release compound helps maintain a consistent sanitizing level for up to 4-hours
Sanitizers include test strips to ensure proper sanitizing levels are maintained
Delivers 100 ppm available chlorine
Laboratory tested- kills E.coli and staph germs
Formulated for cold or hot water
Accepted by breweries throughout North America
Kosher Certified and made in the U.S.A.
Applications
Sanitizer for the third sink of a 3-compartment sink system
Perfect for behind the counter drinkware cleaning systems
Bars, Restaurants, Craft-Breweries, Tasting Rooms, and Wineries